Long-Distance Leasing
Making Virtual Connections With Prospective Residents
---
By John Hall - September 6, 2018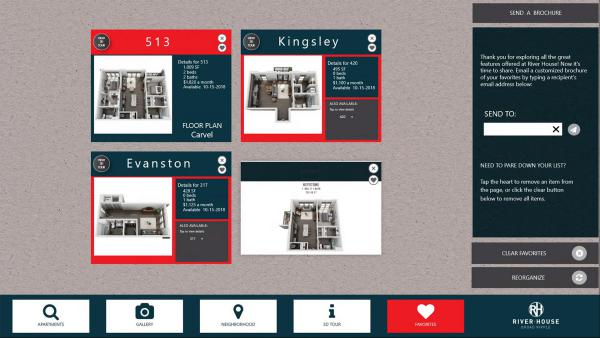 Recently, we discussed community tours - how to maximize their effectiveness, and how to best use your Pynwheel touchscreen on them. There is nothing like personal contact to help you close leases, and you should always be sharpening the tools that you bring to your community tours.

However, there are going to be times where you are unable to meet a prospective resident. You wouldn't want to miss out on opportunities such as those created by companies that are relocating quality applicants to your area. Likewise, prospective residents often want to have their new home secured, even if they don't have the opportunity to visit in person. If these are realities in your marketplace, there are things that you can do that will put you in the best position to reach quality residents, and have a leg up on your competitors.

How do you take the best practices from your in-person tours and apply them to virtual leasing? Here are some of our favorite tips:
1) Make the first move
People who are relocating to your market are often attractive leasing candidates, as they are often following enhanced employment opportunities, and have the wherewithal to rent from you. Are there large employers near you that bring new people to your neighborhood? Why not create an incentive for their employees, and reach out to their human resources departments? Likewise, your general marketing efforts should focus on the places where those from out of town are likely to look - namely, on the internet.
2) Polish your image
It's not enough to have a good website and advertising that you pay for. prospective residents are going to go to third-party sources to see what is being said about your community. Know your online ratings, and take steps to make sure they are not sinking your marketing efforts! Remember, people who are new to your area do not know about your neighborhood like locals do, and they will search for information in places that you can't control.
3) Connect virtually
Even though you can't get face-to-face, it is still to your benefit to have the next best thing. Video calls allow you to make a personal connection. Interactive web pages allow you to be viewing the same things as you talk, so your applicants can rely on photos and maps, instead of just your words. If possible, you should take advantage of your management company's portfolio. If prospective residents can visit a sister property, you can leverage the other leasing professionals at your company to help you get leases signed.
4) Keep your focus personal
Prospective residents who cannot visit you in person still respond to a leasing process that is focused on them. Overcoming the challenges of doing this from afar is a valuable skill. Try even harder to get to know your applicants, and make notes to remember what is important to them. (You will rely on these later!)
5) Pynwheel your virtual tours
Touchscreen interactions are a big part of what makes Pynwheel so powerful, but you still have access to some great leasing tools when your touchscreen is not available. Pynwheel community maps can be loaded onto your webpage, and are a perfect tool for walking an applicant through your available units and amenities. By making note of an applicant's preferences, customizable e-brochures can be created and sent immediately directly from your touchscreen. Customization is always more effective than one-size-fits-all e-mail attachments or paper brochures. 
6) Sweeten the deal
Timed offers allow prospective residents to end their housing hunt before they have a chance to scope out the competition, as well as allowing them to eliminate one of the largest stressors of relocation. Use caution though! You want to make sure that you are as transparent as possible about your community's offerings. Residents who feel that they have been deceived will spread bad word of mouth, and will end up costing you in the long run, especially if they work for an employer that presents the potential for multiple future residents.
7) Nail your follow-up
You should always send customized brochures, but the virtual leasing process offers you other opportunities to stand out. Note your applicant's interests, and send them some information on places in your neighborhood that will specifically appeal to them. Offer concessions that are specifically tailored to each resident, and let them know about the social events at your community that will help them assimilate to their new neighborhood. Often, the best follow-up of all is a simple inquiry about how their moving process is coming, along with an offer to help in any way you can. Remember, if prospective residents develop a personal connection with you, they are far more likely to want to sign your lease.

How often do you rent to applicants before you are able to meet them in person? What strategies do you employ to make long-distance leases work for you? Go Back